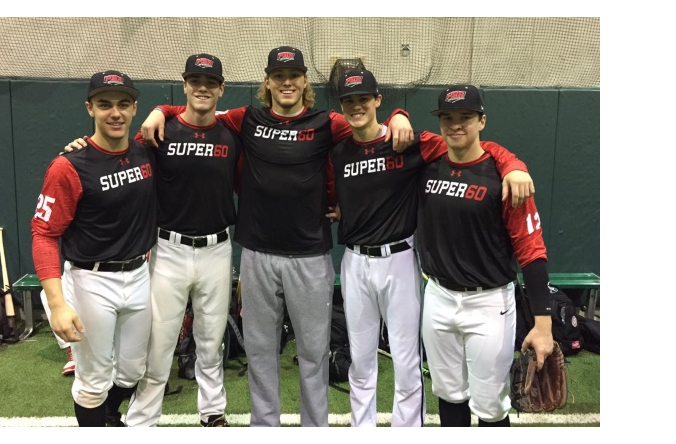 Our new facility has only been open since November 2015 but in that short time we've already made a name for ourselves as one of the best training facilities in the entire country.
The best baseball players from the Kansas City area train with us because we are the best. We make good players great and great players even better.
4 Players who train with us were just named as 1st Team 2016 PRE-SEASON LOUISVILLE SLUGGER H.S. ALL-AMERICANS! Those four are:
Riley Pint-RHP, St Thomas Aquinas HS
Jack Duffy- OF, Staley HS
Joey Wentz- LHP/1B, Shawnee Mission East HS
Tyler Benninghoff, RHP/SS, Rockhurts HS
Original article can be seen here.
As well as those four who are getting a lot of national attention, the list of the top local talent who train with us is also quite impressive; the following lists the top area prospects and their local rankings, all of the players listed below train at Premier Baseball Kansas City:
No.1 RHP Riley Pint St. Thomas Aquinas
• Louisiana State
No. 2 (MO) RHP Tyler Benninghoff – Rockhurst
• Arkansas
No. 3 SS/OF Nolan Williams -Turner
• Louisiana State
No. 4 LHP Joey Wentz – Shawnee Mission East
• University of Virginia
No. 5 LHP Lucas Krull – Mil Valley
• Arkansas
No.8 Two-way LHP/CF Will Brennan – Blue Valley
• Kansas State
No. 9 RHP Cole Duensing – Blue Valley Northwest
• Kansas State
No. 11 LHP Blake Lillis – St. Thomas Aquinas
• Arkansas
No. 12 SS/2B James Cosentino – St. Thomas Aquinas
• University of Kansas
No. 13 RHP Tommy Barnhouse – Leavenworth.
• Wichita State
No. 22 SS/2B Tanner Fox – Blue Valley
• Kansas State
7 of our players were invited to the 2016 Super 60 event held in Chicago, which is a prestigious, invitation-only event that features only the top players in the Prep Baseball Report's 29-state coverage area. Over the last 13 years, the Super 60 has become the most heavily scouted preseason event for potential draft picks in the Midwest. The primary purpose of the Super 60 is to give professional area scouts and crosscheckers a head start on the high school season. The event is for Class of 2016 players and select 2017 prospects. Last year, 85 professional scouts of all levels were in attendance. Since the event's inception in 2003, more than 250 players have been selected in the MLB Draft. The invited players (pictured above) who train with Premier Baseball were:
Lucas Krull
Cole Duensing
Joey Wentz
Will Brennan
Nolan Williams
Riley Pint (did not attend)
Tyler Benninghoff (did not attend)
Information about this prestigious Super 60 event can be read about here.
For additional information about us, written by someone with no affiliation to us, here are a couple articles written about us by Rob Fleeup, the Kansas City Director of Scouting for the Prep Baseball Report:
kansas-citys-premier-pitching-and-hitting-prepares-for-the-draft
elite-kansas-city-pitchers-and-position-players-train-with-premier-baseball
The atmosphere at our baseball facility is really quite amazing. Not just because all the top area talent is training in the same place but it is also because the younger kids, who are working to develop to be the future top area talents, love training right alongside the current top area prospects, and the top prospects are always willing to give advice to the younger players.
Nearly every baseball training facility website is going to say the same things about their culture and why you should chose them, but what makes us stand out is that the best trust us to make them better and we ask that you trust us too.
We invite you to browse our website, check out our social media pages, and then give us a call at 913-283-7942 or come and see the facility yourself.
We look forward to working with you!